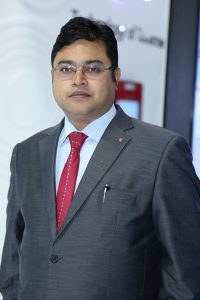 NDS with its vision to strengthen and further grow the Middle East market, has appointed a new Sales Director; Debojit Das based out of Dubai.
A technology evangelist with a passion for solution consultancy, Debojit joins the NDS team to spearhead the growth in Middle East.
"Debojit is a thorough gentleman and a pleasing personality, he also brings in wealth of experience in Pro Av and IT industry", says Bjørn Pieper, Chief Commercial Officer at NDS. "He has been a key player in major technology projects in Airports, Corporate, Government, Manufacturing, Telecom and Retail sector across MEA, and South East Asia over the last two decades", he continues.
Debojit's association with NDS has been established both as a partner and end user even before coming on board with multiple iconic projects in Middle East. His area will encompass major evolving markets like UAE, Qatar, Saudi Arabia, Kuwait, Oman, Iran, Jordan, Lebanon etc. "I'm excited to generate new growth for NDS and looking forward to be part of a team of digital signage experts'", Debojit says. "I believe that in adding value to every opportunity, you add value to your own future".
All at NDS welcome him to the NDS family on a warm note and wish him the very best!